Freeway Camper - Book Your Camper Adventure With Just a Couple of Clicks
Book your camper adventure with just a couple of clicks
Strategy product discovery
UX/UI
Web App
Dedicated team
QA Automation
Brief
The idea for the Freeway Camper platform came from three young founders in Munich that wanted to lead the entire camping industry into the digital age.
They rounded up the investment through FlixBus founders and started a platform for campers and motorhomes renting in Germany. Currently, FreewayCamper operates a rental station in the south of Munich and offers a wide portfolio of campers and motorhomes for every need. They continue to modernize the industry with new stations and the possibility to book campsites.
Approach
The important thing was to improve customer experience and provide them with a direct and digitalized booking process for renting a camper and securing the destination.
IMPACT
Since launch, they expanded to 19 cities and 14 stations in Germany and also opened branches in Poland, Italy, Austria and Switzerland.
NORTH STAR METRIC
Fast, direct and digitalized booking process.
INTERESTING FEATURES
Zendesk chat integration, video embedding, booking integration
Q was able to deliver a new and modern web app for a  camper rental company with direct booking possibilities for the ultimate user experience.
1
Engaging the camping community
The Freeway Camper team noticed that the camping market didn't change for many years and planning and booking a trip with your laptop or phone is practically not even an option compared to other types of travel. This is where they saw an opportunity for starting their company and thinking outside of the box brought them to Q.
Usual inquiry camping forms are simply outdated and the challenge was to build a digital booking and camping experience platform to help users find what they need with just a couple of clicks.
Together, the team developed a strategy for a modern digital booking platform where users can book their camper and their camping adventure.
Freeway Camper has a great relationship with their clients in general and that helped with initial user research and additional research that Q's discovery team conducted. Together, they found out how people perceive camping and that selling a feeling and a story is crucial in engaging the camping community. Team structured personas that evolve around main user experience pillars.
Creating an understandable information hierarchy through different web categories was the main design challenge. For users, it is important to have a simple yet clear flow of booking a camper on the web.
Inspiration for the UX/UI of the product were apps with similar functionalities. Since Q created many digital booking products with great user experience, it was interesting to study their solutions and translate that knowledge to create user flow and sitemap for the web.
The team built wireframes and mockups but with a mindful design approach because the main goals were to differentiate from other popular booking products with the best user experience possible.
Crucial functionality of Freeway Camper is booking campers or campsites. The primary design impact of the product is allowing users to book quickly, without additional questions and non-essential information. Good flow creates happy users.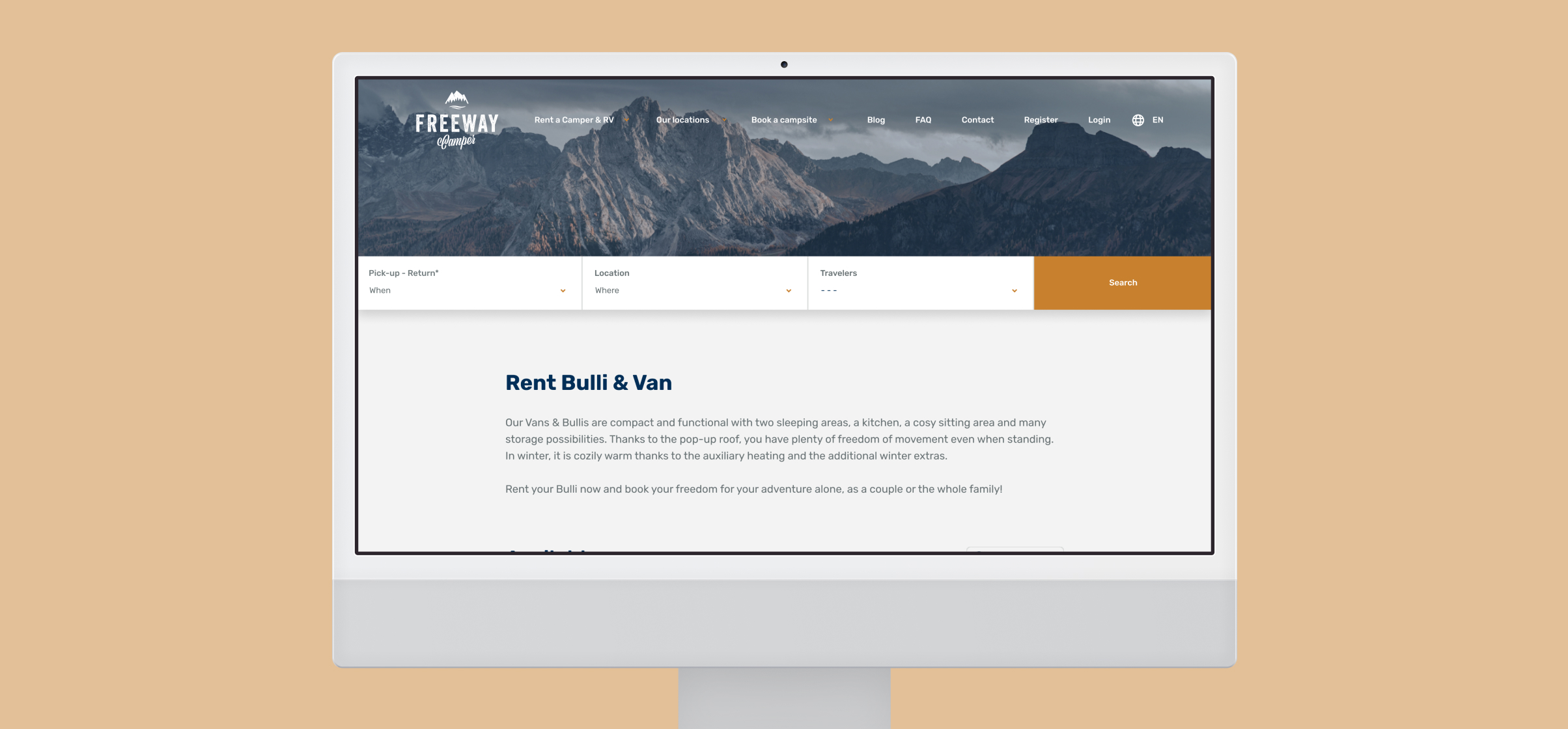 Q team worked on building several different development layers of the platform:


Craft serves as a classic CMS system through which the client enters content related to a website such as: About us, blog, contact, header, footer, newsletter, images, etc.


Symfony was used for handling users who can create their account on the website, log in to an existing account and everything else related to the account like the history of booked campers, data from users, etc.


Planyo was used as a 3rd party platform for camper booking and on the Planyo side, everything related to campers takes place such as vehicle price, vehicle category, vehicle availability, and the whole booking process which takes place in 4 steps. Campers are entered in the Planyo platform and then displayed on the freeway-camper.com page. Long story short, the entire booking process takes place on the Planyo platform.


As part of the new expansion, Freeway Camper is growing the business and opening new pick-up locations & contracting franchise partners around Germany.
Also, they are planning on creating a mobile application for booking because the new research showed that more and more people interact with booking platforms on their mobile phones.
More and more people envision their vacations away from mass tourism. They travel personalized at scale connecting more with nature and local offerings.
While tourists are flocking to the city centers and hotspots with overpriced accommodation, Freeway Campers offers a personalized camper for users' unique traveling experience with just a couple of clicks. Creating a fully digitalized booking experience results in less friction and seamless user experience for everyone.