May 6, 2020 - 7 min
CASE STUDY: The mobile app that empowers people during the pandemic
Meet "Jenz" — a brand new app by Q, that builds a more connected, engaged, and productive workforce, even during the home-oice mode.
85% of people who work remotely want to feel more connected with their colleagues" — Slack
With the entire world going into the COVID-19 paralysis, building a strong team spirit has become a hot topic for every employer, crucial in the upcoming months and maybe even years. Now, more than ever, it will be increasingly important to make sure your people are well informed, connected, motivated, and engaged, otherwise the productivity of the company will fail.
One month in, and we can say that for now, we are ahead of this crisis, fighting it fiercely and successfully! It looks like we have a formula for a business vaccine that keeps us immune. Partly that's also because of the new mobile app we developed called "Jenz," a new social network for companies.
New Trends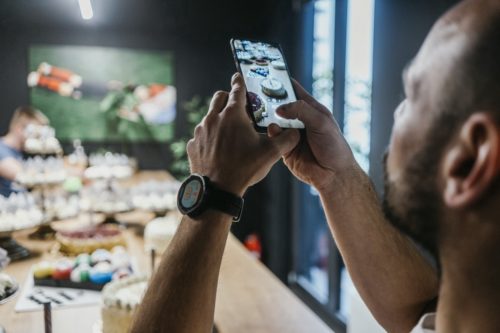 Even in the BC era (Before Corona), many interesting new trends were emerging. Not that long ago, work was being left at work. People had friends, and they had colleagues. Those two rarely interfered. But, in the last decade, trends have changed!
People are now making close personal relationships at work, and many companies come to an understanding that culture and employee engagement are becoming essential in running a profitable business. Here are some interesting stats:


69% of people

 

think that modern businesses of today need a work-based social media. —

 

Deloitte


400% average

 

increase in revenue growth by companies with a strong culture vs. standard culture —

 

Forbes


Only

 

18% of employees

 

think their organizations are transparent enough. —

 

Slack


The Problem
Since our beginnings, we were extremely aware of the importance of having a strong corporate culture and high employee engagement. That is why we always invested heavily in our people and their satisfaction at the workplace. From music instruments, sport and games requisites, language courses, and yoga classes, to social gatherings and events, BBQs, outdoor activities, game nights, and more. But, the faster we grew, the more challenges we encountered in keeping everyone connected and included!
We tried using all available communication channels: Slack, Emails, WhatsApp, Newsletters, and even YouTube. Sounds good, but it doesn't work. The proper "just in time" communication became a massive problem for us. Talking to 150 people daily, making sure every information reaches out to every person, while avoiding lengthy and boring emails, and including everyone in all the activities became mission impossible.
Some of the biggest problems and obstacles we faced were:


Sharing relevant information and keeping our people informed


Communicating company strategy and plans


Reaching out to every person and making sure everyone feels included


Promoting company values and vision for the future


Giving employees a platform for anonymous feedback


Making sure that what our clients say is heard across the entire company


Openly acknowledging individuals who deserve kudos


People. Didn't. Feel. Connected.


The Solution
We searched the internet, spoke to dozens of our clients and partners, and we learned there was simply no proper solution in the market, not even close to the extent that we needed. So we got to the point where the only way to solve our problem was to create our own solution. The decision was made to internally develop our very own mobile application, which will address the above-mentioned issues.
We approached this very carefully, doing A LOT of research and trying to incorporate the best features into one single app, without making it too complicated or too cluttered. In a desire to avoid resistance that often occurs when companies implement a new tool, the emphasis was on building a UX that is modern, slick, colorful, joyful, and visually attractive.
Jenz history in numbers:


10.000 hours logged


18 months dedicated


250.000 euro invested


30 people involved


What is Jenz?
The best way to describe Jenz is to say it's a "closed social network" where you post literally anything that your employees will find meaningful. It's ideal for mid to large-size communities where employees often lack vision and a bigger picture.
By connecting employees to the Jenz app, you can share all important info about the company in a second, and then immediately get feedback if needed. You can motivate your people to get to know each other better and to work more closely with each other.
Jenz unites people, creates engagement, stimulates communication, and feedback. It brings the best out of the company culture and strengthens that feeling of connectedness so that people feel they are part of the same tribe or clan. Hence the name "Jenz" — the phonetical inscription of the Latin word Gens, which is defined as a Roman clan consisting of a group of people united by the same goals, values, and lifestyle.
"Jenz is the perfect solution for today's home-oice mode. It has a look and feel of Instagram or Twitter, it's super easy to use, and the onboarding time is minimal." — Deloitte
What does Jenz do?
The app has 6 main features and serves as one single social network within the company. Anything important or relevant gets posted on Jenz, so employees can scan the app for just 1 minute per day and stay informed and connected.


1. Oicial Stories
To solve the problem of not reaching out to everyone with important company information and announcements, and avoiding sending long and boring emails, we developed a Story newsfeed for oicial company news. To make news more attractive and easy to absorb, the format of each story includes one or more pictures or a video. After all, a picture is worth a thousand words, and video a million, right?
2. Social Stories
Another section of the story newsfeed is fun casual stories, where everyone can post fun, personal, interesting, engaging, or educative content. Jenz UI reminds of a social network, so users feel more relaxed, engaged, and comfortable to post, like, and comment on stories. This creates a strong community and conectedness.
3. People Directory
Here you can reach out to anyone easily, call them or send them an email just by searching them by their name or department. New employees are highlighted, which turns out as a great conversation starter. Every employee has a profile with a picture, department, job title, and a short bio.
4. Kudos & Recognition
Reward, recognition, and feedback are essential for promoting good company culture and growth. Everyone appreciates their work being acknowledged. By one click on a colleague's name, and voluntary explanation, people can kudos each other, which goes directly to the chosen coworker, their team lead, and HR.
5. Employee Feedback
Shoutbox gives employees a chance to write anything they wish, completely anonymously, and pick which department that message goes. This grants every person a voice! It could be a complaint, suggestion, advice, or quick info about something not working in the oice. Easy, but most of all, eicient!
6. Anonymous Surveys
Find out what people think in a snap! Multiple forms of questions, like rating scale, multiple-choice, and yes/no questions, are great for collecting unbiased data, and for better insight on employees' feelings and attitudes, there are open-ended questions. We created polls mostly because of our need to get answers to short and quick surveys, fast and easy.
"Jenz unites human faces, their talents, strengths, aspirations, and ambitions. It builds an internal culture with engaged and driven employees with a strong sense of belonging. That's how brands are becoming strong and incredible." — Zelebrand International
Amazing Results!
We soft-launched Jenz 4 months before the global crisis hit. Firstly, we onboarded only the pilot group to test it and try it out before releasing it to everyone. This helped us polish the app, grow our pool of ideas for further development, and plan our strategy for the future.
Today, we can see a very concrete and tangible impact. Despite our entire oice working remotely during the crisis, the results of our internal surveys have never been better:


86% trust the Senior Management is making the right moves 


87% have great communication with their teams, despite working from home 


90% of people are feeling supported by their superiors


96% have a clear understanding of the expectations during remote work 


March and April have been financially the best months ever in the history of Q, despite the COVID-19


We already have a saying at Q: "That's so cool, we should Jenz it." That's our way of keeping everyone included, informed, and attached to Q. Jenz enables us to unite people's faces, their talents, their strengths, aspirations, and ambitions. It builds an internal culture with engaged and driven employees with a strong sense of belonging. And that's the only way how businesses can stay strong, incredible, and can continue to grow during the crisis.
Conclusion
The global pandemic is profoundly impacting the world as we know it. With everything happening around us, the task of keeping people motivated is harder, but also more crucial than ever. Jenz unites and connects all employees, informs them about everything that's going around in the company, stimulates them to communicate more with each other, and listens to their opinion. This makes people feel safe and happy.
In Q, during these uncertain times, we want to give people a sense of purpose bigger and stronger than just the task of working for the employer. By uniting our people into our own social universe, the Jenz app creates a sense of belonging, sense of pride, and motivation. This kind of "esprit de corps" will kick ass in any circumstances, including the most recent pandemic.
Life goes on, business goes on, f*** Corona, let's Jenz!
Give Kudos by sharing the post!